Ram Bhawan and Filocafe'
Ram Bhawan is the residence and study centre of the Kautilya Society where member guests can reside. We facilitate our members in their research work and experience of Varanasi and the myriad expressions of its religious pilgrimages and traditional cultural practices. Filocafe' is our space for cultural events, dialogues and philosophy over coffee.
At the Kautilya Society, we assist travelers, scholars, journalists, scientists  and curious backpackers in understanding Varanasi, its culture, history, uniqueness and magic. We help them in having a unique local experience.
The Kautilya Society promotes Responsible Tourism, i.e. a tourism that uses, in a responsible manner, the social and environmental assets that interests visitors. This kind of tourism minimises negative economic, environmental and social impacts, generates economic benefits and enhances the well being of host communities, involving them in decisions that affect their lives and livelihoods, and making positive contributions towards the conservation of local natural and cultural heritage.
The Kautilya Society opposes the construction of large hotels in the Varanasi heritage zone. "Large chains of hotels usually bring their own personnel, managers, shops, etc. and employ the local labour as their lower staff.They don't use the local boatmen, local shops, Brahmins, masseurs, etc. and their luxury tourists don't venture out to see the tiny and congested alley ways which are the beauty of an old town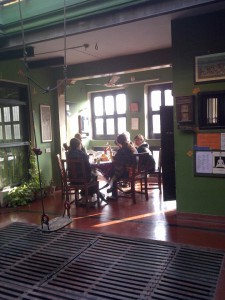 like Varanasi. This not only has a negative economic impact on the local people but also contributes to killing local jobs and sustained employment patterns: it burdens the carrying capacity of the local infrastructure, traffic, water and electricity usage, pollutes the already congested areas with CFCs from air conditioners and poisonous fumes and noise from generators. Ashrams, Maths and small guest houses are undoubtedly much more integrated and in harmony with the existing social, religious and cultural dynamics of the town, the riverfront Ghats and the river Ganges.The construction of tourism infrastructures must not be dictated by large economic interests but must follow de-centralised patterns. This is what Mahatma Gandhi also advocated in his philosophy of khadi and swadeshi.