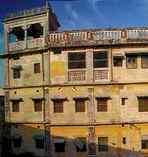 The Residence in Varanasi of the Varanasi Heritage Foundation

Address: D 20/21 Munshi Ghat; tel: +91-542-2452179 / 2455139
Ram Bhawan in Varanasi (India) host the offices of two NGOs: Kautilya Society  and the  Varanasi Heritage Foundation, that offers hospitality to members in the eight rooms available in a family stay atmosphere.
The residence offers a simple, clean and warm place to stay; what our guests often call a "home away from home". 
The Varanasi Heritage Foundation is an Indian non-government, non-profit organisation, based in Varanasi, promoting intercultural dialogue and sustainable development initiatives based on the preservation of local cultures and resources. It facilitates people interested in learning and studying about India, its culture, society, philosophy, religions. In order to maintain an environment of study and research and to feel the spirit of the local culture, we enjoy hosting like minded people.
Ram Bhawan is a four-storey house built in a traditional Indian style, located in the alleyways in the heart of the old city of Varanasi, very close to the River Ganges and next to the central Dashashwamedh Ghat. The building has an old architecture and in order to preserve the traditional ambiance, we have not made many structural changes. Each floor has a common space, a kitchen you can use and one or two common toilets and shower rooms that are kept clean (we value the importance of hygiene). The ambiance in Ram Bhawan is conducive to reading and study and remains faithful to the simple comforts of an Indian home with a splash of colour. Walls are painted in the colours of the ancient city: a cooling forest green facing the court; peacock blues and mango orange in the bedrooms. 
When renovating Ram Bhawan, the founding members had to choose between creating many rooms and preserving a traditional Indian family environment. We chose the latter. Ram Bhawan member guests appreciate our choice. After a long journey to Banaras, when members enter the inner court of the ground floor at Ram Bhawan, they immediately feel a sense of calm. One can enjoy spectacular views of the river and the city from Ram Bhawan's terrace. The ground floor has a large sitting area, library and offices. The furniture in Ram Bhawan is colonial teak or cane. Wireless internet connection is available 24 hours. Electric back up systems are provided so that guests do not experience the frequent power cuts in Varanasi.
While individual rooms are available for students, the house lends itself well for being rented by small study groups per floor, or by larger groups that want to avail of the entire house for a retreat or a seminar. Donations requested for rooms include breakfast and lunch prepared by a well trained cook. For other meals, member guests can use an equipped dedicated kitchenette.
For further information,  e-mail to us.